Asking: How can I spy on my girlfriend's cell phone? Do you think that your girlfriend needs to be checked? Is her behavior towards you changing recently? Do you wish to spy on her cell phone?
At this very moment, there are a lot of suspicious and jealous boyfriends that don't exactly trust their girlfriends. And let's be honest, a checkup here and there on their other half is a good thing to do for any man. It's directly because of this that developers all around the world have been hard at work to develop spy applications that have the ability to read text messages and generally spy on a remote phone.
Then there is the best solution for you. Choose cell phone spy to refrain from any sort of doubts or issues. These days, it has become a common problem for people to get relationship troubles and the loyal side suffers the most. If you are the one having such a problem in your relation, then get the professional cellphone spy app which can be the best way for you to get rid of all your doubts and know the reality about your girlfriend.
App to Track Girlfriend's Phone Activity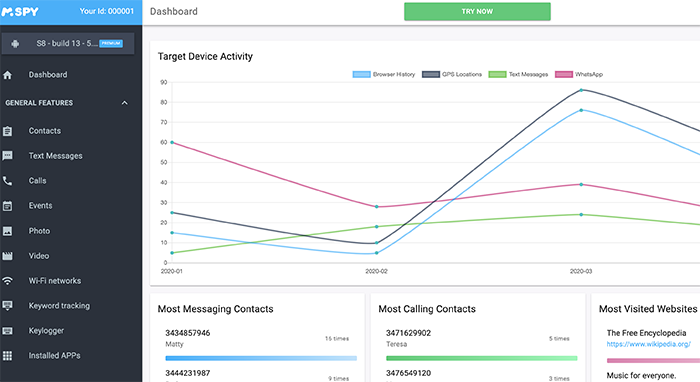 Try now
This software would automatically trace all the messages, call logs, WhatsApp conversations, geo locations and keylogging. It will be possible for you to get the tracking without any botheration. You can just pay for the subscription and install on the device you want to target. It is feasible to spy on the device immediately after you've installed the app on it. Go on and choose your own app for all mobile tracking and monitoring. It will definitely help you to monitor the mobile phone and get through the monitoring process easily. You can contact the customer support, if you wish to know anything about it. Preview free mobile spy apps reviews about these software to get full information and choose the best app for your case.
What do these applications actually do?
By now, there are a lot of mobile spy applications out there, each and every one good at its own field of expertise. Some spy applications are designed to read text messages while others have the possibility to read the chat logs of any instant text message application. On the other hand, you can even find applications that can track the GPS location of a mobile device in question with pinpoint precision.
Are all phones compatible with Mobile Spy App?
The majority of these spy applications are made for the largest market, which is needless to say iPhone and Android devices. So if you have one of the two previously mentioned devices running an operating system that is updated, you won't have any problems finding or installing the spy application of your choice. Another good thing to add is the fact that all of the spy applications in question have very low minimum system requirements, so even the older models won't have any problem running them.
How do these apps actually spy on mobile devices?
The trick is that you need to install a partner application on your girlfriend's device, this partner application accumulates data whenever it gets the chance, than forwards the accumulated data to you when you request it, its needless to say to do so, that an active internet connection is needed.
How to Download Tracking App
To start spying you just need to take these easy steps:
Go to its web-site and purchase the software.
Download it into the phone you want to monitor.
View the phone's data from any device that has Internet connection.
With our tracking apps you will be able to:
Monitor calls
Track text messages
Read emails
Track GPS Location
Monitor Internet Use
Access Calendar and Address Book
Read Instant Messages
Control Apps and Programs
View Multimedia Files
To Have Remote Control of the Phone
Conclusion
There are some people who choose Spy App before making a decision for their marriage with girlfriends and it is absolutely a wise decision. You need to know a person from inside to make the final decision because one wrong choice can ruin your life.
You can check these tools and spy on your girlfriend's mobile in an easy way. There is just a little access required on her phone for downloading the app and you will get all the information gradually with her mobile usage. If you are going through any relationship troubles, then this app is surely for you. Free apps might come in your mind for this purpose, but spending a small amount for tracking her phone is better in all the aspects. Try out track app and get to know about everything you desire.